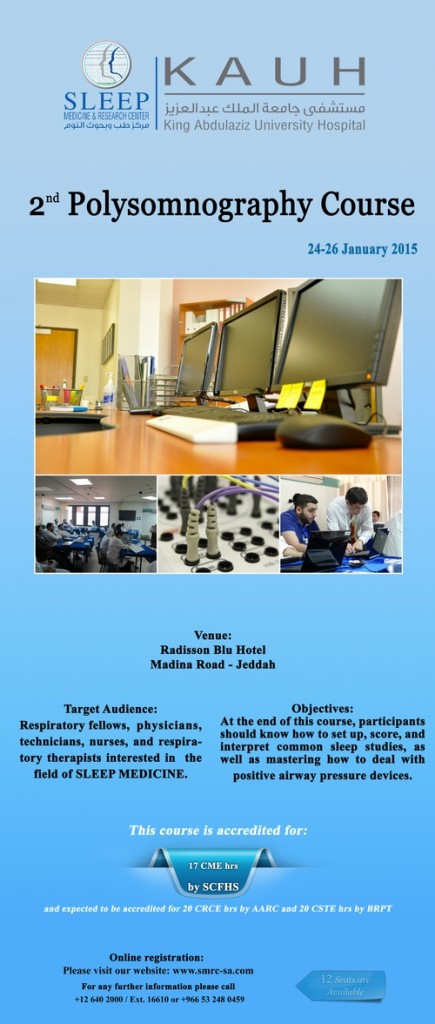 The 2nd Sleep Medicine and Polysomnography Course, conducted by the Sleep Medicine and Research Center, King Abdulaziz University Hospital, ran over a course of three consecutive days.
Participants including physicians, nurses, and sleep technicians, met at the Sleep Medicine and Polysomnography Course, held in Jeddah, Saudi Arabia earlier this month. The course organizers included a number of introductory topics in order to familiarize attendees with the different aspects of sleep medicine.
A number of consultants and professors were also invited to talk about diseases encountered in the field of sleep medicine; including talks about normal sleep physiology and how it is affected by sleep related breathing disorders in adults, and sleep related movement disorders. In addition, we performed live Polysomnography recording.
To highlight polysomnography, four American board certified sleep technologists including an international sleep technologist educator, by the name of Glenn Roldan, were invited for giving talks mainly on polysomnography and how it is scored as well as organizing workshops to provide participants with hands-on training.
This course was accredited by the Saudi Commission for Health Specialties for seventeen Continuous Medical Educational hours, the Board of Registered Polysomnographic Technologists for twenty Continuing Sleep Technology Educational hours, and the American Association for Respiratory Care for twenty Continuing Respiratory Care Educational hours.